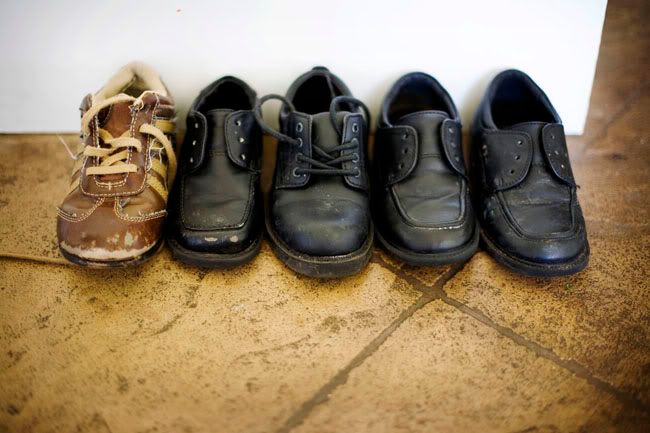 okay - besides some of the shoes being dirty and needing to be tossed...
Notice - they're all about the same size...and they're all for the right foot. A few weeks ago we were trying to get ready for church and I went to get Mac's shoes...and kept pulling out only the right side...there were NO left church shoes in our house - not kidding. How does that happen? Are they buried in the sandbox? I went and bought him a pair of
slip ons
- and they slipped right off...so I gave up and bought another pair of black size 8.5 church shoes. Exhausting.
On another exhausted note - my heart goes out to all of you with weak, shallow MOLAR roots. I had the wonderful pleasure :) of having an implant and tooth pulled (with a bone graft) on the same day - not pleasant...can't yell, chew, sleep etc... Genetics I tell you - not fair. (I blame genetics since I drink water and eat veggies...and occasionally eat a piece of chewy candy - so it can't be ME right?)
AND for the final exhausted note of the day - after last nights
WWF
at the dinner table and display of all things "
TEWK
family" (that's how its spelled right mom? the imaginary family that my mother grew up with that had horrible manners at the dinner table) that ended with a grand finale of the 2 boys going to their rooms
withOUT
finishing their dinner and staying there for the rest of the night 'lest their father be called home from the late night tax work to give them an earful (don't worry - their trusty and loyal sister snuck them food and
ipods
and homework to keep them company - thinking their mother wouldn't know :) - A new family dinner time GOAL has been set. 30 DAYS of impeccable manners (no spilling, getting up, burping and other kinds of atrocious behavior will be tolerated) equals the opportunity to go OUT to a restaurant as family and use those impeccable manners to impress the local "dining out" population :) Stay tuned...